The Price of a Life in Rural America: Hospital closing threatens lives in Hyde County
Songs of Praise
Ocracoke Methodist Church welcomes the Jobe's Chapel choir for a special service this Sunday.
The Methodist Church will be rocking when over fifty members of Jobe's Chapel Missionary Baptist Church join the worship and share their songs of praise. They've chartered a bus to bring them across by way of the Swan Quarter ferry on Saturday. At Sunday's 11 a.m. worship service, the Jobe's Chapel Choir will offer a Gospel Showcase as part of the regular service, followed by a potluck at Ocracoke School's multipurpose room. Everyone is invited to come to church and bring a dish to share for lunch afterward.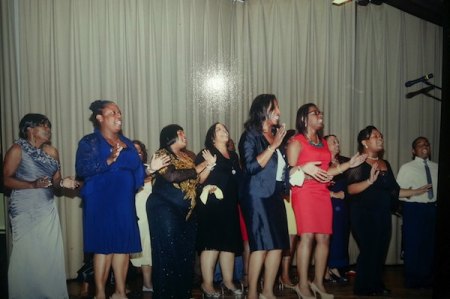 As with so many things that happen on Ocracoke, there's a good background story to this.
Some of our readers may know Lorenzo Farrow, who has been driving the Ocracoke route for Hyde County Transit for fifteen years. Hyde County Transit is a private, non-profit organization that offers low-cost public transportation in the county. Twice a month, Lorenzo comes to Ocracoke and takes local residents up the beach for a day of shopping – one trip to Avon and one trip to Nags Head. (This service is free to anyone over 60; if you're younger you pay $3.20 for Avon and $5.00 for Nags Head.) Lorenzo and his trips are popular, and some people go every time.
Ocracoke residents Barbara Adams and Jennifer Hamlin are regulars on the HCT bus. They are also regulars at the Ocracoke Methodist Church, where they sing in the choir. Upon hearing Lorenzo beautifully singing along to gospel tunes on the bus, they asked him about his musical background. It turns out that Lorenzo a member of the Jobe's Chapel choir and he loved the idea of bringing the choir Ocracoke.
Lorenzo introduced Ocracoke's Pastor Laura Stern to his pastor, Bishop Levi Murray.
"We really hit it off," Pastor Laura said. And thus the plans were made for Jobe's Chapel to come to Ocracoke.
Laura put out the word that housing was needed for the choir and their families, and, in typical Ocracoke fashion, the community stepped up and donated rooms. The choir members will stay at the Sand Dollar, Pony Island, Berkley Manor, Gael and Bill Hawkins' rental cottages, and Captain's Landing. Bishop Murray will be a guest in the home of Bill and Jennifer Rich.
"We're very excited about them coming," said Pastor Laura. "They have a great choir that they're excited about and it's growing lots of enthusiasm."
The Jobe's Chapel contingent will include youth and children as well as adults, and a band as well as vocalists. They will sing gospel selections such as "I am a Friend of God" and "It's Time to Give God All the Praise."
"We're looking forward to welcoming our brothers and sisters from the mainland," said Pastor Laura. "It's good for us to build relationships across the sound."
Courtesy of The OcracokeCurrent Newspaper 2014